Signing up for a Northside Elevator grain account allows you to keep on top of the current grain prices. With your account you can recieve grain prices via email, text, or you can log in to see the current prices and place market bids to sell your grain. Sound interesting? If so follow the guide below to get started.
First off, head on over to our site, www.northsideelevator.com. On the top menu on our site hover over the Grain menu item and then click Cash Bids. This top menu is always available from any page on our site.
Clicking Cash Bids will direct you to a login screen. This is where you will normally log in to see our grain prices, place a market bid to sell grain, and make account changes. Since this is your first time you will not have a Username-Password combination yet. Below the login box there is the link "Click Here to request a username/password", please click this. (Or if you already have an account and need to change your information/subscriptions, go ahead and log in now, and then click the Account button on the next screen.)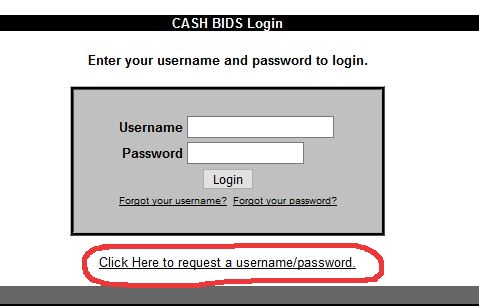 Clicking the above link will now direct you to an account setup page. This all pretty standard stuff, there are two sections, the first is contact information and the second section are your subscription preferences. We will go over both.
Contact Information: All fields with a red asterisk need to be filled out. In particular pay attention to the Cell Phone and Text Message Address lines. These two lines have different purposes. The Cell Phone line is not required and is for the purposes of giving us your cell phone number as a form of contact, it has no other purpose.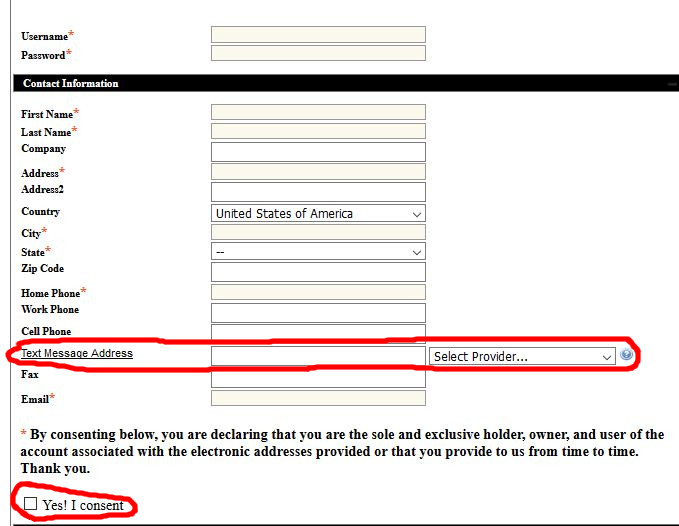 The Text Message Address line is the line used by the automated computer system to send text messages. If this line is not filled out you will not receive any text messages for grain bids. This line consists of two parts, your mobile number and a drop down list of cell phone providers. Both parts must be filled out. A cell phone provider must be specified because the way computer systems interface with cellular provider networks through provider specific gateways. Lastly you must click the Yes! I consent box.
Subscription: In this section there are six check boxes that may or may not be checked depending upon what you wish to sign up for. The last three are the most important. We will go over each one.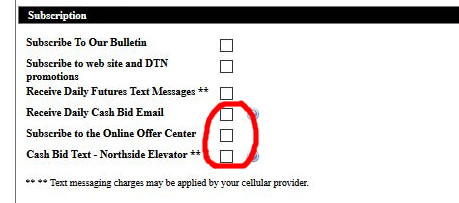 Subscribe To Our Bulletin: We don't have a bulletin so this box does not count. We do send out a monthly newsletter and if you wish to receive those just sign up near the top of this post or any others in the right sidebar with your email address and click subscribe.
Subscribe to web site and DTN promotions: This is DTN specific and is not from Northside Elevator. If you wish to receive email from DTN click this, otherwise do not.
Receive Daily Futures Text Messages: We do not send out futures text messages, you can ignore this checkbox.
Receive Daily Cash Bid Email: Check this box if you wish to receive grain bids email to you from us. These are sent out three times a day, 9:00 am, Noon, and 3:00 pm.
Subscribe to the Online Offer Center: Check this box always. This allows you to log on and see cash bids anytime and also allows you to place market bids to sell your grain.
Cash Bid Text – Northside Elevator: Checking this box will sign you up to receive cash bids texted to you provided you filled out the Text Message Address line in the Contact Information section correctly.
That's pretty much it. It may take a day or so after setting up your account to actually start receiving emails and or texts as we will have to manually activate your account. If you have any questions please feel free to give us a call.